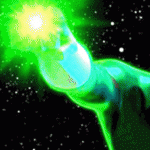 After apprenticing under John Frizzell (Legion, Whiteout), Frederik Wiedmann has maintained multiple careers as an orchestrator, mixer, and composer of several graphic horror films, including Return to House on Haunted Hill (2007), The Hills Run Red (2009), and Mirrors 2 (2010), but with Green Lantern: The Animated Series [M] (2011-2012), he's written a multi-thematic, almost classic orchestral score, with organically blended electronics and sound samples.
Special thanks to Frederik Wiedmann for discussing his latest work, and Beth Krakower at CineMedia Promotions. Volumes 1 and 2 of Green Lantern: The Animated Series are available from La-La Land Records.
This podcast is also available at Sound Cloud. A 2009 interview with Frederik Wiedmann is also available at KQEK.com and its mobile site.
Cheers,
Mark R. Hasan, Editor
Big Head Amusements