For nearly 8 years I've been picking up various vintage video gear, a process / addiction that began with I chose to shoot BSV 1172, a documentary on local video store Bay Street Video, using 1980s tube cameras and assorted video processors and tape media.
Although some of the cameras and mixers I bought have become more scarce in the passing years – and sometimes absurdly expensive – there's still no shortage of cameras, mixers, processors, cables, etc. that float in & out of auction sites, used shops, antique vendors, and private sales. Some collectors have found genuine treasures in dumpsters – high end Pioneer amplifiers, cameras, and broadcast monitors – and the waste of perfectly fine and repairable AV gear is simply outrageous.
We have a serious dilemma when it comes to ewaste, the term applied to unwanted, obsolete, broken, and supposedly irreparable electronics, and while you can't save everything, there's no reason perfectly fine gear should be shredded or junked, especially when some gear can find second lives, whether they're functional or fully fixable.
A recent BBC piece on fixing doomed ewaste makes it clear how logical the whole concept of repurposing and repairing gear really is.
When the Kenmore stove broke in the 1980, my dad called Sears and they fixed it so it would run for another decade or two. When the ENTER and ESCAPE keys on an office keyboard broke at work last year, I cracked it open and used Krazy Glue to seal the torn rubber.
And when the 2 cent fan on an old ATI graphic card started to sound  like a motorboat, I went through various fiddles instead of junking the card. (Mind you, that's still a work in progress, but the latest seems to minimize Motor Boat Syndrome for the uniquely designed fan.)
This whole preamble is tied to a subject I'll revisit again and again, simply because the right to repair should be law everywhere, and the steps in disposing of unwanted electronics should include easy options for consumers to donate to an organization that will repair and will resell to collectors, artists, and anyone who wants refurbished gear at non-collector prices.
For about a year I've been getting Ebay alerts for a Sony SRP-X700P audio mixer, a beast designed to service the needs of conferences or anyone and any organization needing a multimedia brain into which flows video and audio sources, and are distributed to speakers and monitors in a media or conference room.
The second-tier X500P also shows up online, but the 700P offers a few more perks in the form of more inputs and software that allows full control of the mixer, with the ability to save up to 20 presets.
When a 700P showed up in my Ebay feed, it was listed as a 'powerful mixer' (it is, offering 120W of oomph) but its low price was due to a pair of dented speaker terminals, and the entire unit frozen in Lock mode – a feature designed to prevent unwanted changes by shutting off the unit's operational controls.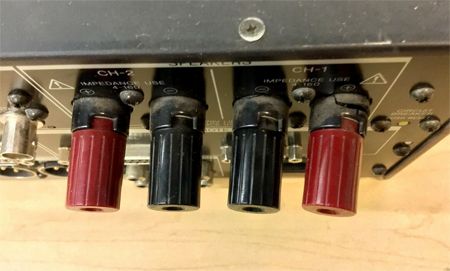 In other words, you need the software and especially the drivers to connect the 700P via USB 2.0 to a PC, spanning Windows XP thru Vista.
The seller couldn't find the USB driver, so it was offered for sale to someone willing to gamble a little.
Sony's North American site still lists the unit's specs, offers PDF brochures and manuals on the unit and Manager software, and flash upgrade for Vista users… but no driver, and although downloading version 1.31 of the Manager contains a folder for USB drivers, Windows 7, Windows XP32 bit, and Windows 2000 refuse to recognize them.
However, there's the Sony Japan site, which offers a similar series of pages for similar manuals, and if you use Google translate and hit the right tab, you can find 32 and 64 bit drivers zipped for downloading.
The following steps worked for me, but use them at your own discretion & risk.
1) Sony's North American site offers Manager v.1.3 and v1.31; the latter contains v.1.31 plus a Control Panel, manual, firmware upgrade, and the USB drivers which won't work with Windows 7 64bit, Windows XP32bit, nor Windows 2000.
For Windows 7 64bit, I actually installed both files because when I downloaded the multipack file SS0213, Windows warned two files were older than the ones already installed, so I clicked Do Not Replace All.
I then downloaded file SS02C5, reinstalled the Manager, and this time didn't get any warning, so presumably this is the more recent version even though both zipped files were created in 2009. Once again, no luck in getting Windows to recognize the 700P due to no compatible USB driver.
2) With the Manager software installed, go to the 700P's Sony Japan page. You can use Google Translate for the page details, as well as the PDF manual to install the USB driver.
This page has info on the 64bit driver. If you shoot down to the page bottom, the second button to the right  (highlighted in red) links to the 64bit driver. (Hovering the mouse over the button will show the URL, and clicking it will prompt a download request for 64bit_Driver.zip.)
Note: while the Page says the driver will work for Windows 7 and Vista, the Release Info .doc lists every operating system except Windows 7, but it worked fine for me. Moreover, the folder does contain files that Windows XP 32bit and Windows 2000 will recognize. More on getting XP and Windows 2000 to install the drivers shortly.
As the Japanese manual outlines, you have to go to Windows 7's Device Manager, update the driver which may have come from the i386 folder, not the amd64 folder,although there are additional drivers in the 64bit folder after unzipping:
The install applet will start, and while it may seem to hang, it's not – it just takes a while. Be patient, cross all fingers, cross your legs, and say very nice things to your PC, and it should hopefully complete and signal a successful driver install.
Now, I had to repeat the driver install because when I rebooted, it disappeared, but the second install worked. I turned on the machine with & without USB connections, and rebooted the computer with & without the 700P connected, and the driver did not disappear.
However, if you bought a 700P that was locked, I strongly suggest this be your first action: the moment Windows says the driver was installed successfully, open the Manager, and uncheck that red Lock button in the upper left corner of the GUI / Graphic User Interface so it's plain grey.
If you slide the mixing pots from 0 / infinity upward, the orange infinity light will disappear – a good check the mixer can be controlled directly.
A few quick notes:
While you can reboot your PC with the mixer connected and powered on,don't, because it slows down the reboot massively. When you need to connect the mixer to the Manager software, just connect the USB cable, turn on the mixer, wait half a minute for Windows to see the mixer and load the driver, and start the Manager software. You should see a green Connection dot in the Manager's GUI, and the USB light on the mixer's front panel should also be green.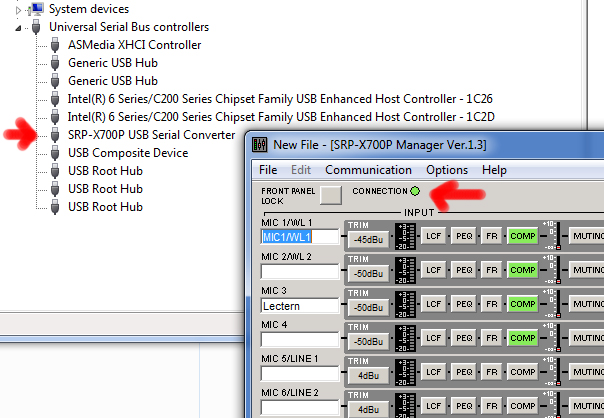 Sony reportedly updated the Manager software for miniDV and Blu-ray recognition, but I didn't dig into the options to verify that (yet).
WINDOWS XP 32BIT and WINDOWS 2000 OPERATING SYSTEMS
Being a Windows user since Windows 386 (that's circa 1990), I believe in redundancies in case you either need to operate gear on another machine, or in case of a disaster, have a backup option.
I use a XP Pentium 4 PC for podcast editing and mixing, and – ahem – a Dell Inpsiron 5000 running Windows 2000 as a media player when I need to send wav audio into sources like an oscilloscope for filming. (The Dell laptop was also handy in sending stills via its SVHS output to a CRT monitor, from which I created gnarled effects for a teaser to promote my interview with filmmaker / composer / sound auteur Dante Tomaselli.)
The process to getting the mixer recognized by both machines and their respective legacy operating systems was very similar:
1) Install the Manager 1.31 software. When there's an alert about copying files older than what's on your PC, click keep current. Don't start the software yet.
2) Plug in the USB cable. Turn on the mixer, and wait for the Device Manager to see the mixer. You'll be asked for a driver because it still doesn't know what USB controller you have.
3) Use the Windows installer to select the 64bit folder, and the USB driver should install quickly. With both machines, the Device Driver will show the following:
4) Start the Manager software, and it should both load and see the mixer without errors. All done.
Once again, these stages to unlock a Sony SRP-X700P and / or install a driver that's compatible with Windows 7 worked for me, so follow the steps at your own risk.
Over the next while I'll test the audio and video inputs of the 700P to make sure it works properly, but I may do a short video outlining the mixer's features, which are massive.
Although you can use the mixer without the Manager software, you'd be loosing out on EQ, filters, trim, attenuation, and dizzying router possibilities. It's really worth your while to use the software because it's meant to dominate the mixer, leaving the manual controls for slight tweaks and adjustments.
With the 700P, you have front slots for 2 wireless mics, and can input up to 6 mics via rear balanced XLR inputs, of which 4 offer mic power, and 2 are switchable from mic to line.
There's one set of unbalanced audio RCA connectors; 3 sets of audio & video connectors for composite and S-VHS; 2 D-sub component RGB inputs with 5.1 surround sound RCA plugs; and one component D-sub input and stereo RCA audio.
The unit will power 2 speakers, and will output a pair of stereo balanced XLR, stereo unbalanced RCA, and separate RCA 5.1.
The way the inputs are organized is you have switchable mic and line inputs, and the mixer will blend the audio from any one of the 6 video inputs.
The input volumes are controlled using the front sliders, and there are 2 Master Volume controls for combining groups of 4 inputs each.
Like the routing and filters and attenuators and EQ options, the Master knobs can only be turned on / off via the Manager software, which is perhaps best detailed in a video rather than text – a future project for me, once I test all the options.
The 700P is a beast. It's heavy, all metal, and if you walk into it, it will hurt, so find a spot on your rack or shelf where you won't bash into it, and more importantly, can access the rear for quick patching.
I've so far tested the audio, and the inputs sound great, but be forewarned that without the Manager software, the slightest nudge of any pot will send high volume to connected speakers – the potential to blow little 4ohm monitors and scare the crap out of you are quite possible.
To avoid a sudden jolt from hot pots, attenuate Ch1 and Ch2 in the Output GUI (top right corner) to -30db each, as that'll be closer to what's being output via the unbalanced RCA line outputs.
Additionally, the RECOUT RCA output will be louder than Outputs 3-8 because those are two fully dynamic tracks, whereas the 5.1 image splits up dynamics to the surrounds, and sends bass to the subwoofer.
I'll post an update regarding the video inputs later, but coming soon is a short piece on shooting video from a Premiere timeline off a CRT monitor, using both a vintage ENG 3 CCD camera, and a vintage 3 Saticon tube camera, and capturing the footage as a ProRes 422 file.
Thanks for reading,
Mark R. Hasan, Editor
Big Head Amusement